License Questions
Themeforest Licenses
Currently ThemeForest offers a single license and an extended license. The single license means that you need to purchase one single license for every site that use Goya. So if you are building 3 websites with Goya, then you are required to purchase 3 single licenses. Even the extended license operates this way but you can re-sell this as an end product.
We invite you to read full details on Envato site. Here some highlights for your consideration:
Common license questions
If I need to use Goya on a second site, do I need a second license?
Yes. One purchase of Goya allows you to use the theme on one finished site. If you need to use it on a second site, it requires you to make a second license purchase.
Can I use Goya on a test site, then move it to a live site when finished?
Yes, you can. You can keep the theme on a test site to build it, then move it to the live site once you're finished.
Can I keep a test site and a live site with one Regular License purchase?
According to the licensing rules set by Envato, this is not allowed. If it is installed in two places permanently, then it requires two licenses.
Do I need to buy a new license if I use the theme in a subdomain?
If you are going to use the item on one domain or multiple subdomains, you only require one Regular Licence (ex: www.domain.com/siteOne – siteTwo.domain.com – site.Three.domain.com). However, if you are going to use the item on multiple domains, then you will need to purchase a Regular Licence for each domain (ex: www.domain-site-one.com – www.domain-site.two.com – www.site-three-domain.com/).
Do I need to buy a new license each time I create a landing page within my site?
As long as it's all on the same domain, a single license is fine.
If I purchase an Extended License, do I get a multi-use, multi-client or developer license?
No. The Extended License is still limited to a single end product, but you can re-sell that product.
Common support questions
When you buy an item on ThemeForest you have 6 or 12 months of support included, based on your purchase plan option. If you are interested in renew your support period, please follow:
Renew support. To reactivate your support, login your ThemeForest marketplace account, navigate to the 'Goya – WordPress Theme' page and choose one of the item support renew options.
Buy new license. If you plan to build more websites with Uncode, it is much more cost-effective to purchase an additional license (with support included) instead of extending the first license.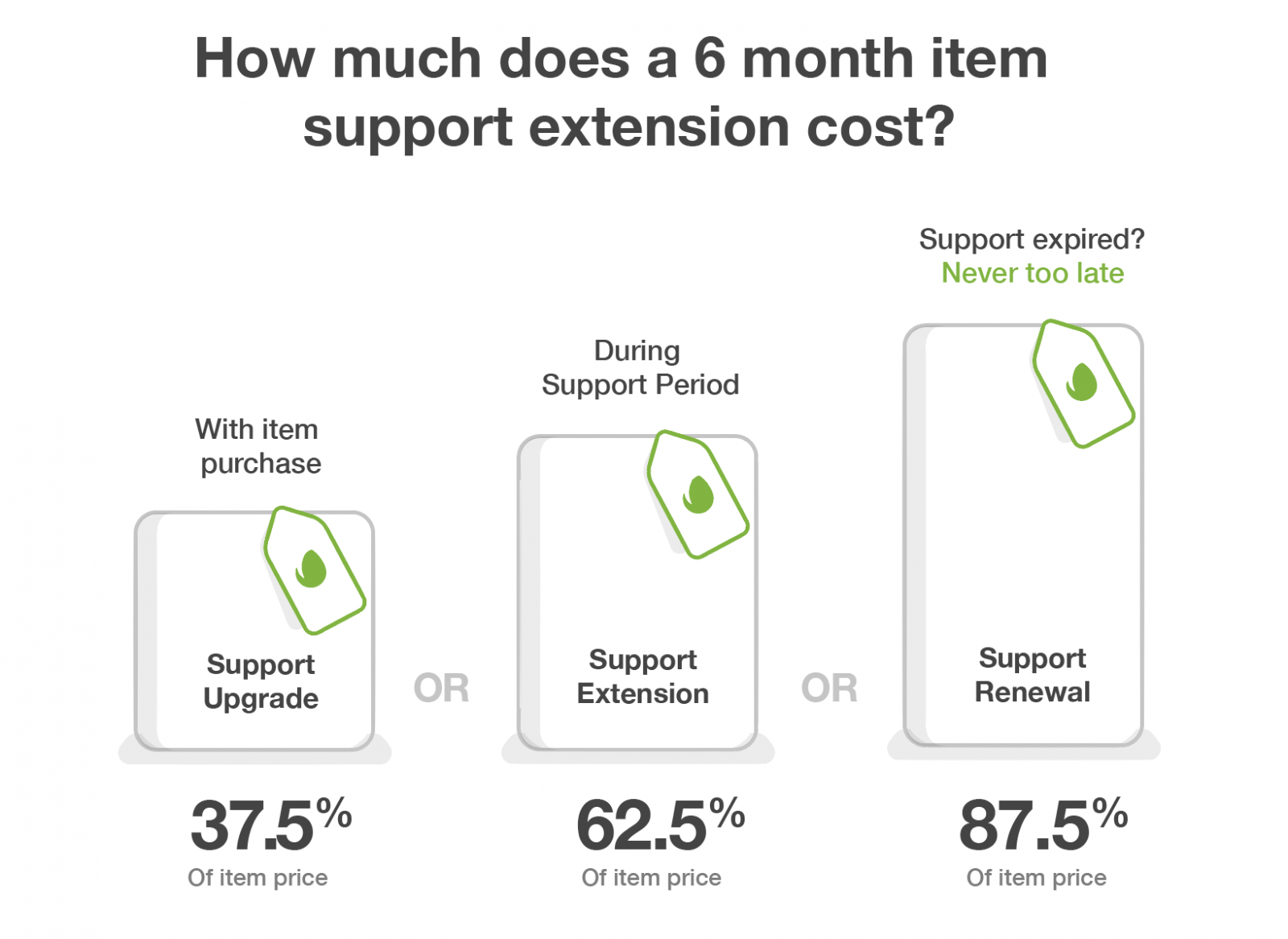 Bundled Plugins Licenses
There are two premium plugins are bundled with Goya and do not require additional licensing in order to use with Goya. They are WPBakery Page Builder and Revolution Slider plugins. We purchased them from codecanyon.net and included them in the theme package. We are not allowed to include the license key for each of them. If there is any update, we are accountable for updating the theme with the newest version of plugins.
In fact, the license key will not help you anything even updating plugins to the newest version. Only direct buyers can do this. Because we provide those with the themes; therefore, we will take care of updating them for our customers. Just take a look at the link by the author of plugins to see more.
We will keep the plugins up-to-date.
Common Questions
I see messages require me to enter the license key to active WPBakery Page Builder and Revolution Slider plugins. In fact, this these plugins require license key to active the automatic update feature. Once you activated them in the Plugins menu, they are fully ready to use. You can ignore those messages.
How dow I update the premium plugins. Goya does include updates for our premium plugins (Revolution Slider and WPBakery Page Builder). However, this does not mean that you will receive an individual license for these premium plugins. Due to Envato's licensing rules, we can only issue updates for these plugins when we issue a theme update. This also ensures that we fully test the plugin to make sure there are no critical bugs that will conflict with our own update.